ALL BECAUSE OF HER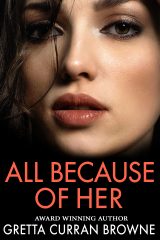 ALL BECAUSE OF HER: A sensuous love story and intense thriller
"Part love story, part thriller, readers will find it hard to resist turning the pages." TELEGRAPH
Finalist in "Readers' Favorite Book Award for Outstanding Romantic Suspense Fiction".
MARC ― an American soldier on holiday in London, where he meets and unexpectedly falls in love with Marian, a young English waitress.
MARIAN ― innocent and unworldly, eighteen years old, and only two years out of the closed Barnardo's Home where she grew up,  Marian believes she has found the perfect love, mending what is broken inside her, unaware that back in America Marc faces complications that threaten to overwhelm him.
Until Marian, there had been only one other person in the world whom Marc truly loved ― Jacqueline Castineau.
JACQUELINE ― French, stunning, with beautiful dark eyes, and totally  fearless.  All Jacqueline's enemies are not only defeated, but completely destroyed in one way or another; she tolerates no obstacle to her wishes ― until she meets Phil.
PHIL ― has come a long way to find her, and when he does, he looks at Jacqueline with a detached air and no emotion. She has a long-standing debt to pay, and he has come to collect.
Set primarily in London, Paris, Massachusetts, and Sweden, a story of tender love and tender youth, which suddenly takes a startling change of direction. A brilliant storyteller, Gretta Curran Browne weaves an intricate multicoloured fabric, both subtle and vibrant, which defies the reader to close the book before all of its truths have finally been revealed.
"A fast-pace story involving huge sums of money, immense power, women both wounded and wounding, and a variety of credible male characters from the traumatised Vietnam veteran Jimmy Overman to the seedy publisher James Duncan … an excellent book." — IE BOOK REVIEW.
"Great touching story! — All I can say is you better have a box of tissues in close proximity while reading this book. It will tear at your heart strings over and over again, and it's impossible to put down! Gretta Curran Browne is one of my favorite authors. Her writing has been consistently good and always keeps me reading non-stop. Never melodramatic, just real and the characters are very human as in this particular book. The beauty of the love story and the deep sadness evoked by circumstances beyond control of the couple is brilliantly written. Needless to add, I loved this book. This is my second time!" — WOODSEVER  – Amazon Top Contributor: Fiction Books
"Wow, Wow, and More Wow! Absolutely loved, loved, and loved this book! The storyline was outstanding, as it moved along, developing the characters. I felt like I knew each one myself. Many I loved, and a couple I despised. It's very sad in places, and then it turns you around hooraying the next chapter – definitely worth the five stars.
If you are browsing for a great read that will keep you intrigued for hours, this is the one! Even when I was not reading it, I was thinking about it. It was a part of my life for a couple of enjoyable days. Amazing creation. " — Sylvia Banschbach
Revised edition: Previously published as 'Ghosts in Sunlight' but only the title has been changed due to many readers saying the title was misleading, and they were initially put off thinking it was about ghosts and "paranormal" which it is not.