Fire on the Hill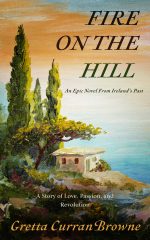 is a true story based on recorded facts. Michael Dwyer was born, cradled and then grew from boy to man under the shade of the Wicklow Hills. He knows every inch of them, knows all their secrets: the river streams to quench a man's thirst, the wild game to keep away hunger, the wood in excess to burn, and the sheltering caves. And then, in the historic year of 1798 he comes to know love.
When Michael Dwyer first dances with Mary Doyle on the night of the spring fair, many of the locals see their love story unfold before their eyes, a story so unique they will later tell it to their grandchildren.
Destined to be a farmer like his father before him, Michael loves the land, and is content to work in the fields and live off the yield, but in that same year of 1798 the militia, hated pawns of the rulers in Dublin Castle, force him to leave the land and take to his beloved mountains, where he becomes what every Wicjlow youth dreams of being: a man who owns no master, a man who refuses to bend a servile knee.
And always, standing somewhere amidst the green glens and beautiful landscape of Wicklow, is Mary, waiting and watching, caring nothing for patriotism and heroism, only for her love for the rebel captain, but love on the run cannot last forever.
Having walked the green glens of Michael Dwyer's native County Wicklow, Gretta Curran Browne ‒ in this rigorously researched historical novel ‒ reveals the complexities and humanity of an extraordinary Irish rebel leader.
FIRE ON THE HILL is a magnificent historical novel and a passionate and poignant love story.
Press Reviews for "FIRE ON THE HILL"
'I can honestly say it's one of the most enjoyable books that I've read for some time. I can't recommend [it] highly enough.' – Irish World
'Here is a real blockbuster, magnificent, passionate, poignant.' – Books Ireland
'A powerful historical novel.' – Guernsey Evening Press
'Powerful! A love story which endures more than half a century and spans two continents.' – Brecon and Radnor Express
'Browne has a talent for drawing us into her characters and situations.' – Irish News
Readers' Reviews for "FIRE ON THE HILL"
5.0 out of 5 stars
An epic worthy of the name
By A Customer
Having borrowed a friend's copy of the author's first novel, 'Tread Softly On My Dreams', I was so overcome with emotion that I felt nothing the author followed this story with could ever match it, let alone top it. Well consider me well and truly proven wrong! Giving a true account of life for Irish peasants of the time, the author deserves every bit of praise she gets. Her style of writing, her obvious love for her characters and her attention to the most minute detail necessary for total historical accuracy combine to produce a book that will have pride of place on my bookshelf for years to come! I am eagerly awaiting her next novel.
5.0 out of 5 stars
Brilliant
By mkeburke@hotmail.com
If Michael Dwyer and his companions were only half the men as portrayed by Gretta Curran Browne, then they would still be head and shoulders above many of their more well known "historical heroes" of the past. This book catches the atmosphere of the times superbly and tugs at your emotions every step of the way. The climax left me in tears.
5.0 out of 5 stars
Fire on the Hill
By C (England)
Having recently bought a Kindle, I was delighted to see Fire on the Hill as an ebook. I first read this book about 10 years ago and as I have mislaid the original, I wanted to reread this fabulous book again. Gretta is a brilliant story teller and having just finished Tread Softly on my Dreams, I wanted to read another of her books. The characters are fabulous and her attention to historical facts makes this book a must to read. This author is one to watch and I will be downloading her next book as soon as possible.
5.0 out of 5 stars
Worth Waiting For…
By A Customer
Having read 'Tread Softly on My Dreams' I looked forward to reading 'Fire on the Hill' with the feeling that it could not be as good. I had to wait longer than expected to find out when my visiting (Irish) mother-in-law went home with my new copy! I ordered another and read it within a couple of days, taking every opportunity to pick it up. This is a fast flowing and brilliantly written novel, again based on (and tied in with) impressive research. Maybe a little added romance and the occasional view of things through green tinted spectacles – but this is probably necessary for the sake of the storyline.
Altogether this is an excellent novel and well worth the price (and the wait). If anything, this exceeds the author's previous efforts. She goes from strength to strength and I look forward to more. How about 'The Thomas Russell Story'?