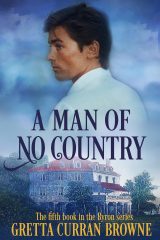 Hi everyone,
NEWS — I am delighted to say that next book in my BYRON Series, A Man of No Country" is now available.
The sixth book – "Another Kind of Light" –  is due for publication on June 28th 2018  and  is now available for pre-order.
The concluding book in the Lord Byron Series – "No Moon at Midnight" – will be available Summer / Early Autumn 2018.
My love to you all.

Gretta
April 19th –  Greece honours fallen hero Byron with a day of his own. (www.theguardian.com)
An Englishman, A Poet, a soldier of liberty who gave his life for the freedom of Greece & so the Greeks still honour him.
April 19th each year in Greece is a National Bank Holiday and known as "Byron's Day"  
​
The BYRON Series
                               A Series of books about the most iconic young man of his time
 

 
 
 
  BOX SETS
My other titles
The Liberty Trilogy
The Macquarie Series
 TV / Film Tie-ins
 
 
 

Short Stories