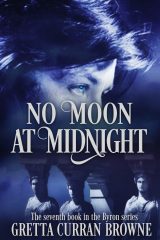 Hi everyone,
NEWS — I am delighted to say that the final book in my BYRON Series, "No Moon at Midnight" is now available.
 It has been a labour of love writing this series – lots of laughs, quite a few tears – like the story itself.
My love to you all.
Gretta
April 19th –  Greece honours fallen hero Byron with a day of his own. (www.theguardian.com)
An Englishman, A Poet, a soldier of liberty who gave his life for the freedom of Greece & so the Greeks still honour him.
April 19th each year in Greece is a National Bank Holiday and known as "Byron's Day"  
​
​​
The BYRON Series
                               A Series of books about the most iconic young man of his time

A STRANGE BEGINNING

"Will seduce the reader right off the bat". 

"Perfect for fans of POLDARK and DOWNTON ABBEY"

 Finalist in the IAN BOOK OF THE YEAR AWARDS for Outstanding Historical Fiction

 
 
  BOX SETS
The Liberty Trilogy

TREAD SOFTLY ON MY DREAMS

Winner of READER'S FAVORITE Gold Medal Award

FIRE ON THE HILL

"Magnificent, passionate, powerful" — BOOKS IRELAND

A WORLD APART

"Beautifully descriptive, heart warming, romantic and inspiring" –

Karla, Amazon Reviewer

The Macquarie Series

BY EASTERN WINDOWS

Set in the beauty of Scotland, the magic of India, and the hostility of China, peopled with memorable characters of all races.

"Fabulous and heartbreaking … fresh and authentic in every detail … it has to be the best book I have read about the British in India since M. M. Kaye's "The Far Pavilions" – Dr Aileen Keegan

 My other titles
 

ALL BECAUSE OF HER

 "The plot is flawless" – READER'S FAVORITE

TV / Film Tie-ins
Short Stories