Tread Softly on my Dreams
Winner of Readers Favorite Gold Medal Award 2018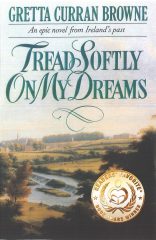 It was in the historic year of 1798 that Robert's life changed from its charted course to one of rebellion. A brilliant student at Trinity, he cast aside all hopes of a scientific career, all the privileges of his class, to join the United Irishmen – a society dedicated to the union of Protestant and Catholic. After the bloody '98 Rebellion, Robert was forced to flee to France. But even as his boat sailed away from his beloved homeland, he looked back and knew he would return – to the cause of his country's liberty, and to the beautiful girl he had fallen in love with, Sarah Curran, the daughter of Ireland's most talented lawyer.
He returned – and met Anne Devlin, a wild and brave Catholic country girl, who became his most devoted and loyal companion.
Set against the background of the beauty of Ireland, the dark clouds of its past, as well as the humour and dreams of its people, this is a passionate and powerful true story of three young people, Robert Emmet, Anne Devlin, and Sarah Curran, drawn together in love, in hope, and tragedy.
REVIEWS for "TREAD SOFTLY ON MY DREAMS"
'A compelling mix of political thriller and love story, beautifully written, meticulously researched, and immensely enjoyable.' – The Sunday Independent
'On as grand a scale as Flanagan's The Year of the French. She has treated the story of Robert Emmet sensitively and movingly, and has also managed to produce a well-balanced fast-paced story. – Ireland On Sunday
'…a hidden, secret story behind the commonly received "facts", one that has nothing to do with legend … cuts across political or religious prejudices.'
– The Belfast News
'Well and simply written, with feeling and humour, and the meticulous research illuminates the scene without ever intruding upon it.' – The Sunday Telegraph
'A very fine achievement.' – Sunday Press
'Her research brought her to the Wicklow Hills, the archives in Dublin Castle, and back again to the Crown Papers in London . . . an incredible tale of political corruption.' – The Irish Times
'I can honestly say it's one of the most enjoyable books that I've read for some time. I can't recommend it highly enough.' – The Irish World
A vivid and moving story. We will, no doubt, have more from this author.'
– Irish Post
'Probably one of my most favourite Irish novels.' – Belfast Bookworm
Robert Emmet – Irish America Magazine
Emmet's speech from the dock at his trial would become an inspiration to later generations seeking Irish freedom. "We fight that all of us might have our country, and, that done, each of us shall have our religion," he said, ending with, "When my country takes her place among the nations of the earth, then, and not till then, let my epitaph be written."
"A good historical fiction "tear-jerker" written on Robert Emmet by Gretta Curran Browne is entitled "Tread Softly on My Dreams"-Wolfhound Press: 1998.  The author notes: "Although presented here as a novel, and cloaked in the style of fiction, this story is a true one based on recorded fact. Most of the characters are taken from history, and all the chief episodes, as well as many minor ones, are based on documented evidence."
Readers' Reviews for "TREAD SOFTLY ON MY DREAMS"
5.0 out of 5 stars
The Devlin's in the detail
By Micheal O Doibhilin (Dublin, Ireland)
Absolutely fabulous book – and so is the sequel 'Fire On The hill'. This is the first book on Emmett and his abortive rising that gives Anne Devlin her proper place, and shows her bravery and love for Emmett for what it was. Read this and know what a great historical novel should be, and as a great introduction to many of Ireland's greatest heroes. This should be on everyone's list if you are at all interested in Ireland's history.
5.0 out of 5 stars
Best novel about Ireland I've ever read
By Kat (Sandston, Virginia United States)
"Tread Softly on my Dreams" is the best novel about Ireland that I've read–and I've read many. (Of course Morgan Llywelyn's novels are outstanding, but this even beats them.) Like another reviewer, I came to this book accidentally. What a find! The writing is good, the story is wonderful and parts of the book just shine. Robert Emmet's plea from the dock during his trial brings a lump to the throat of all of us with Irish blood. There's a great mixture of fact and fiction. This is one of those books that inspires you to go to non-fiction to find out what really happened. In my opinion that should be the goal of all historical fiction writers. If you like historical fiction and especially if you are in love with Ireland like I am, you must read this book.
5.0 out of 5 stars
Couldn't put it down
By Cheryl Johnston (Australia.)
This is probably the best book I have ever read. It has all the history of the story with a very personal human touch. I have never been so emotionally moved while reading a book, especially at the ending.
5.0 out of 5 stars
Absolutely brilliant-emotional, gripping & tense
By Kerrie Carroll (Melbourne Australia)
This book was one of the most enjoyable but extremely moving books that I have ever read. Robert Emmet was a wonderful man with a passion and dream as great as any Irishman had for Ireland. This was set during a very troubled time of Irelands history that gave me a great understanding of Irish history. Gretta Curran Browne spent fours years researching for this book and all I can say is that I cannot recommend this book highly enough.
5.0 out of 5 stars
Absolutely brilliant! A great read, I couldn't put it down.
By A Customer
I discovered this book by accident, and could not put it down. The writing is superb and the story gripping. I can't understand why a book like this is not in the bestsellers. It humanises a period in Irish history that appeals to everyone of all nationalities, and although a novel, it is so authentic in its feel and fact and language which makes it even more exciting. I thought the title was a bit romantic, because really the book is a political thriller.
5.0 out of 5 stars
Best book I've read in years!!!
By A Customer
This book deserves more than five crowns. I read it from cover to cover in three days and still couldn't put it down. Educational, heart-touching, brilliant! The author brings history to life, drawing you into the lives of these strongly portrayed characters. I shared their hope, fear and anticipation. If you order any book today make sure it's this one!
5.0 out of 5 stars
Wow!
By Charlie Chaplin "yogi285" (NE USA)
Inspired by genealogical research that led me to find such a direct line to Scotland and Ireland in my family, I had decided to learn more about the history of both countries. As William Wallace's inner strength and noble acts were brought across in Mel Gibson's movie, "Braveheart," Gretta Curran Browne has done admirable honor to Robert Emmet, a hero no less strong and noble. This book reads like an engaging historical movie that does stay true to actual events in the late 1700s and early 1800s. Your time will not be wasted with this reading.
5.0 out of 5 stars
Excellent account of a tragic period of Irish history
By A Customer
This is a book that is difficult to put down. The story is skilfully told and is based very closely on true events. In fact, the author has used very little artistic licence. There are one or two loveable characters who cheer proceedings, particularly the Emmett servant. However, this is a true story and the sad and tragic fate of Emmett, Fitzgerald, Tone and Russell cannot be forgotten. Anne Devlin is a particularly tragic character and her fate maybe best outlines the lack of enthusiasm that most Dubliners had for Emmett's rising. Bring on the Michael Dwyer story!!!
5.0 out of 5 stars
Awesome account of an interesting time in Irish History,
By A Customer
Awesome, absolute page turner. I couldn't put it down. I grew up in the same area as Michael Dwyer (The Glen of Imaal) so recognised many of the townslands and of course the Dublin/Wicklow mountains. Grew up hearing about Robert Emmet, Anne Devlin, Michael Dwyer and Sam McAllister. This book will not disappoint.
Looking forward to reading Fire on the Hill – The Michael Dwyer story.
5.0 out of 5 stars
A great find
By Ella (London)
A friend recommended this author to me and I wish I had discovered her sooner. Tread Softly On My Dreams is a wonderful book, it has everything – I laughed, I cried and I didn't want it to end. It is historical fiction, which is not a genre I usually go for, but I found this to be fast-paced and fascinating. I can't wait to read more of Gretta Curran Browne's books.
5.0 out of 5 stars
Fabulous read
By C (England)
Having started the book this week, I found it impossible to put down. The author has obviously researched the subject matter thoroughly and her writing brings the characters to life. The book made me laugh and cry all the way through and Anne Devlin's trial reduced me to tears. The story is based on a true event in Irish history and I can't wait to download her next book.
5.0 out of 5 stars
Thumping good read
By maisiek
This book is a terrific read for those interested in history, and an equally good read for those who aren't. I fall between both stools and so was thoroughly satisfied, get a copy and read it for yourself.