A STRANGE WORLD
Book 2 in The Byron Series
"Byron only had to come, and to be seen, in order to conquer."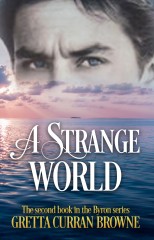 At twenty-seven, Lady Caroline Lamb reads the story of a young aristocrat's strange journey through unknown and barbaric parts of Europe in Childe Harold's Pilgrimage, and declares her opinion that the author would certainly be "mad, bad, and dangerous to know."
A few weeks later she actually meets him, and becomes obsessed to the point of erotomania.
From the wilds of Albania to a life of luxury as one of the beau monde in Regency London, George Gordon Lord Byron is astounded at the burst of fame that engulfs him on the publication of Childe Harold.
"I awoke one morning and found myself famous."
Meticulously researched, and adapted into novel form, 'A Strange World' is a vivid and truthful portrait of the most iconic young man of his time, and Britain's first superstar.