The Far Horizon
A stand-alone novel, and also the second novel in The Macquarie Series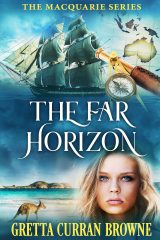 As a young British officer, Lachlan Macquarie served his country in America, the West Indies, India and Egypt, but now he is being asked to go to a wilderness on the other side of the world where famine and strife amongst the inhabitants is flourishing.
A firm hand is needed, but when he arrives Lachlan surprises the population by showing them he is not only firm, he is also fair.
George Jarvis, now grown to a young man, travels with him, and it is there George meets Mary Neely, a young, embittered English girl, who falls in love with George and learns from him about the goodness of life.
Set in the early nineteenth century, The Far Horizon is a story about the genesis of a nation, and the man who turned a convict colony into a country, and named it Australia.