ANOTHER KIND OF LIGHT
Book Six of the Lord Byron Series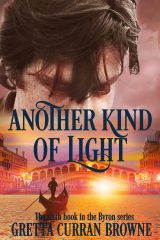 "Good night—or rather, morning. It is four, and the dawn gleams over the Grand Canal, and unshadows the Rialto. I must to bed; up all night — but, 'it's life, though, damme, it's life!' "
An Englishman in Italy, Lord Byron's life in Venice is full of fun, laughter, and devil-may-care romancing – until he meets his last and truest love, the eighteen-year-old Teresa Gamba Guiccioli, for whom he risks everything, even the danger to his own life; and moreso, his own pride.
Every part of Venice is reflected in his poetry – walking across the bridge that connects the Doge's Palace to the prisons from which none returned, he invented the name that made it famous all over the world, "The Bridge of Sighs"; because of the sad sighs, he believed, that those condemned prisoners would release on seeing Venice and freedom for the last time.
But it is his letters back home to England that bring Venice and its people to life with irresistible high spirits, bewitching and picturesque, with rumours and jokes and flippant with effervescent self-ridicule, occasionally solemn, but not often.
"No one need doubt that the letters, perhaps even more than 'Don Juan,' are the beginning and middle and the end of Lord Byron." – Michael Ratcliffe in The Times.