A MAN OF NO COUNTRY
Book 5 in The BYRON Series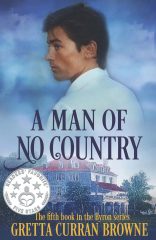 The Man … The Poet … The Legend
Having left England behind him, Lord Byron arrives on the shores of Lake Geneva in Switzerland, where he meets the poet Percy Bysshe Shelley, Mary Godwin and Claire Clairmont. Four young people seeking a new life.
All are brought to life in that happy and haunted summer of true friendship, love, and story-telling; when during a period of stormy weather over the Alps, Mary writes 'Frankenstein'; and Byron writes 'The Vampyre', later plagiarised and published by his physician John William Polidori.
Based on their own words in the letters and journals of Byron, Shelley, and Mary, the author brings the reader inside the Villa Diodati to vividly share in the world of these leading icons of the Romantic Movement during that famous summer in 1816.