Ordinary Decent Criminal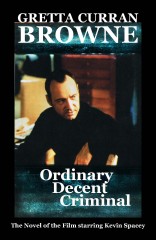 Michael Lynch, suave, sardonic and sexy, strides the Dublin streets as if he owns them – the king of the Irish criminal underworld.
He dreams up audacious robberies and carries them out with panache. He has only four passions in life: motorcycles, crime, his marriage to a wife he adores, and his love affair with her sister.
Utterly confident, Michael decides to turn his career of crime into a work of art, culminating in the ultimate theft of priceless paintings from Dublin's most prestigious art gallery, where he outwits the police, Interpol, and even the IRA.
The novel of the Miramax/Little Bird film starring Kevin Spacey, Linda Fiorentino, Helen Baxendale and Colin Farrell.
Spacey Reading
Ordinary Decent Criminal – The novel by Gretta Curran Browne
'This is a novel form of the movie. Fun reading. If you haven't seen the movie, try the book.' – Irish Emigrant Book Review
Readers' Reviews for "ORDINARY DECENT CRIMINAL"
5.0 out of 5 stars
Really enjoyed this!
By GastersBooks
A very enjoyable read, very funny in parts – great fun. The character of Michael Lynch – played by Kevin Spacey in the film – is complex and intelligent, as well as hilarious at times. Also, some of the smaller characters made me laugh out loud. Recommend it if you need a good relax
WATCH THE FILM, THEN READ THIS
By A Customer
This book goes into Lynch in more depth than in the film. It is a highly recommended read and I dare anyone not to smile at the end.
Flanagan's Restaurant, Dublin
Right beside Dublin city centre's famous landmark, the Spire, is Flanagan's Restaurant. A family run business since 1980 Flanagan's has built a strong reputation among locals and visitors to the city. Over the years we are proud to have featured in two best selling novels, Gretta Curran Browne's 'Ordinary Decent Criminal' and Tom Clancy's 'Patriot Games'. We pride ourselves on our warm Irish welcome and excellent hospitality.