The Love We Gave
(Previously published as Ghosts in Sunlight)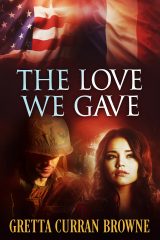 "An overpowering sensual love story, and an intense thriller. The pace is unforgiving, and the plot is flawless." — Readers' Favorite
"Part love story, part thriller, it's hard to resist turning the pages." — Belfast Telegraph
Paris 1940 ― Sixteen year-old Jacqueline Castineau joins the French Resistance and proves herself more lethal than any Nazi.
London 1963 ― The music of Elvis, the Beatles, and Smokey Robinson hum through the city night and day; and the life of a shy young English waitress changes spectacularly when an American soldier comes into the bistro where she works.
America 1963 ― President Kennedy is in the White House and Martin Luther King is marching for Civil Rights.
In this incredible and beautiful love story, jealousy and vengeance play a cruel part – set between two wars, the horror of the past come back to casts dark shadows over the present, and uneasiness about the fearful threats of the future.
Press Reviews 
Reviewed by Sarah Stuart for Readers' Favorite:-
The Love We Gave by Gretta Curran Browne is an epic story of the class divide between an aristocratic family and a young woman brought up in an orphanage, and the countries of France, America, England, Vietnam, and Sweden.
It is a story of obsession – passionate love of people and power, greed and immorality, and implacable, unforgiving hatred. Paris, a beautiful city despoiled by conquering Nazis, with the sixteen-year-old daughter of a wealthy jeweller, Philippe Castineau. Jacqueline, dressed as a boy and pretending idiocy, who joins the French Resistance and kills without mercy.
Steeped in literature as one might expect of writers and publishers, invaded by the music of each decade, and gloriously multicultural, The Love We Gave is the book out of countless thousands I have read that made me, like Phil, answer when asked how I wanted my coffee, say "in peace".
Time after time, I guessed what was coming, and sometimes I was right and sometimes shockingly wrong, but I had to know. The pace is unforgiving, every character strides through the pages alive, vivid, and believable, and the plot is flawless – a superbly written whole. This is an overpowering, sensual love story, a political testimony that argues against American involvement in Vietnam, and an intense thriller. For Gretta Curran Browne's The Love We Gave, "the only word is Wow".
"Books are often described as 'page-turners' but this is very true of this one' … Once started the reader will find it very hard to put down.'— SOUTHSIDE NEWS.
'A fast-paced tale involving vast sums of money, immense power, women wounded and wounding, and a variety of credible male characters from the traumatised Vietnam veteran Jimmy Overman to the seedy publisher, James Duncan … an excellent book.' – IE Book Review
'Plenty of suspense and drama … Very enjoyable.' – Woman's Way
'Browne has a talent for drawing us into her characters and situations … this is a real page turner.' – Irish News
'Add another name to the growing list of successful authors – Gretta Curran Browne. This story is a modern thriller … a page turner'. – Mayo News
Readers' Reviews 
5.0 out of 5 stars
A Real Page Turner
By Jamie G. "Jamie G." (Scotland)
The author's themes in this fabulous book range from young and tender love to old and bitter hatreds. From the misery of bed-sit poverty of London in the 1960s to the power of immense wealth in the 1990s.
In a time when the world was excitedly influenced by the cultured intellectualism of the new American president, John F. Kennedy, MARIAN BARNARD is a young woman who falls hopelessly in love with MARC GAINES, a young American tourist who walks into the London restaurant where she works as a waitress. She discovers that he is a lieutenant in the American Army and totally devoted to the Civil Rights policies of JFK and his brother Robert.
Marian also becomes the true love of Marc's life, but both are unaware of the obsessive and possessive adoration of Marc's mother for her only son. JACQUELINE GAINES – French and proudly Parisian, who had formerly been a young sabotage commando and vengeful killer in the French Resistance when the Nazis had invaded her beloved Paris, – and now Jacqueline was determined to sabotage her son's relationship with the English girl.
Through JIMMY OVERMAN, Marc's best friend, we get a deep insight into the personal and American tragedy that was the Vietnam War and the soldiers who returned from it, still seeing the ghosts of their friends left behind.
After Marian's death, it is up to her son, Phil, to carry out a determined and ruthless revenge on each and every single person who destroyed her life.
A fabulous story that does not allow you to second-guess anything and keeps you gripped from start to end.
5.0 out of 5 stars
One for the men too!!!
By Dan (Liverpool)
Whoah! Picked this up after my girlfriend wouldn't stop raving about it and had nothing else to read, and found that from page 1 this puts the hooks in and doesn't let go till the thrilling denouement! The characters are all authentic and unforgettable to the extent you cant stop thinking about them after the book has ended! The writings superb, the pace excellent, the story twists like an angry snake, all in all is one of the best books I believe I've ever read! Can not recommend this highly enough to men and women of all ages, there's that much to enjoy here!
By Ella (London)
This was just fantastic. I couldn't put it down and read it in two nights. A mixture of thriller and love story, I found it very different to other books – and so good I want to read it again. The characters are unforgettable. I had not heard of this author until a friend recommended this book to me, and I am so glad she did.
5.0 out of 5 stars
Brilliant and utterly gripping from start to end
By A Customer
I enjoyed every word and every page. A story of excitement and depth and twists and turns that refuses to allow the reader to second-guess what's coming next. The end was nothing like I expected, and really great. We need more of these kind of novels and less of the tosh so many women are writing. I lost a night's sleep reading this one. Excellent!
5.0 out of 5 stars
What a find!
By C (England)
I came across this book by pure accident and what a find it was. This book is one of the best I have read in ages. I could not put it down! Gretta Curran Browne is an amazing writer. The plot is great, he characters realistic and I can't wait for her next book to be published. I would thoroughly recommend this book.
5.0 out of 5 stars
A really great read! Best I have read in ages
By A Customer
This was a book I wanted to go on and on and never end. The people were so real and the story fabulous. It would make a marvellous American television series or film. I'm now a devout fan of this author!
5.0 out of 5 stars
Another good one
By maisiek
This book couldn't be more different from Tread softly On My Dreams also by Gretta Curran Browne. It isn't an historical novel but it is another really good read.